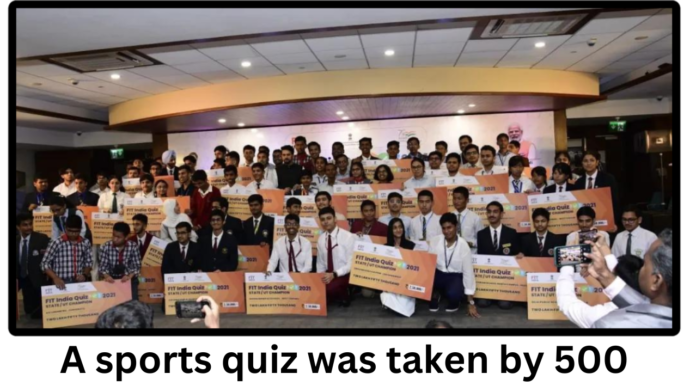 The Hindu Future India Club (FIC) and the Odisha Mining Corporation (OMC) collaborated to arrange the second quiz.
Students took part in the second sports quiz held on Saturday in Cuttack and the 45 nearby schools, which was organized by the Hindu Future India Club (FIC) and the Odisha Mining Corporation (OMC).
More about Sports quiz.
In Cuttack's Jawaharlal Nehru Indoor Stadium, over 500 students from both junior and senior levels participated in the quiz. Students responded to quizmaster Gautam Bose's sports-related questions to the best of their abilities.
The degree of knowledge and confidence demonstrated astounded both the quizmaster and the student audience. The questions were answered in a matter of seconds. The inquiries covered a range of sports legends, their contributions, accomplishments, and inquiries regarding fresh ventures in the sports industry.
The winners were recognized by I.V.S. Andhra Pradesh and Odisha Regional Chief Parthasaradhi and Quizmaster Bose.
EIA certificates, shields, and medals were given out on Saturday in Cuttack. Image courtesy of Special Arrangement
Swarit Kumar Swain and Priyanshu Pratik Pradhan of DV Public School, Sector-6, Cuttack, and Subham Mishra of DV Public School, Rajabagicha, Cuttack, took first and second place, respectively, in the junior division. Kirti Kabalya Parida and Subhranshu Sahu of Rajabagicha, DV Public School, and the third place were awarded the prize.
Similar to the junior category, the senior division saw Ayushman Nayak and Soumyajeet Swain of LR DV Public School in Cuttack win first place, followed by Ankit Kumar Swain and Kaushik Behera of DV Public School in CDA, and Om Pratik Samal and Dharmaraj Sahu of DV SCB Medical Public School. Cuttack University took second and third place, respectively.
The winning teams earned medals, a shield, certificates, and a monetary prize of 6,000 each, while the teams who placed second each received 4,000. The third-place winners each received 3,000.
Sports quiz links.
Brahmapur, Sambalpur, and Rourkela will also host events for this program. Through the online form at https://forms.office.com/r/yL4EPU7HZ9, students are urged to sign up and participate. The event also offers on-site registration.